Next: The Interstellar Matter Up: GAMMA-RAY EMISSION FROM THE Previous: Introduction &nbsp Contents

The interstellar medium of our Galaxy is the most intense source of the gamma-ray sky, producing about

of observable photons with energy larger than few tens of MeV (as clearly shown in fig. 1.1). Early observations of the gamma diffuse radiation along the Galactic plane were obtained through the gamma counter mounted on-board of the OSO-3 satellite [Kraushaar et al., 1972]. The major features of this component were defined by measurements made with the SAS-2 satellite [Fichtel et al., 1975] and the COS-B satellite [Bennett et al., 1977]. These measurements were later refined by the observations performed by the Energetic Gamma Ray Experiment (EGRET) flown on the Compton Gamma-Ray Observatory (CGRO). These observations are currently the most suitable to study the interstellar gamma-ray emission.
For gamma-ray energy larger than a few tens of MeV, the Galaxy is transparent to the radiation (the maximum average thickness of the Galaxy is 1/10 of the radiation length). Therefore, the emission intensity is, at least in first approximation, proportional to the Galaxy thickness crossed by the line of sight. Hence the Galaxy emission shows a intense ridge of apparent width of about 5 degrees in galactic latitude, outside which the emission intensity is strongly reduced (see Fig 1.2)
In order to understand the galactic diffuse radiation, the knowledge of the diffuse medium components is needed and it is also necessary to make use of information obtained from other wavelengths, particularly the radio band, as well as measurements of the cosmic-ray particles.

Figure 1.2: The intensity of gamma-ray emission derived from EGRET observations (for energy greater of 100 MeV). The abscissa represents the galactic longitude (degree) while in ordinate is the galactic latitude (degree). It is clearly visible the galactic ridge [Bertsch et al., 1993].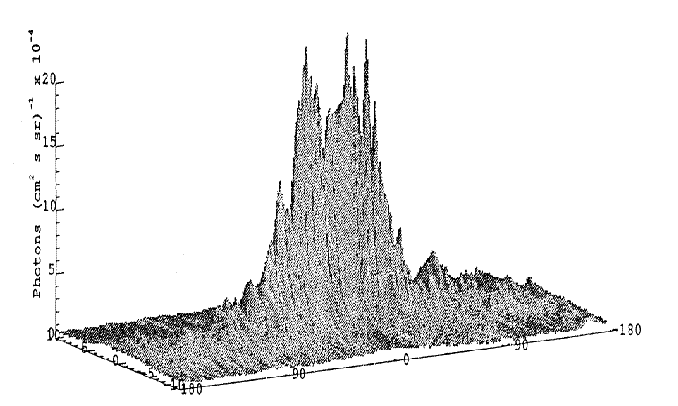 ---
Subsections
---

Next: The Interstellar Matter Up: GAMMA-RAY EMISSION FROM THE Previous: Introduction &nbsp Contents Andrea Giuliani 2005-01-21