Next: The magnetic field Up: Gamma-Ray Emissivity of the Previous: The Ionized Hydrogen &nbsp Contents

Beside the diffuse matter, the interstellar space is filled with the electromagnetic radiation field produced by stars and interstellar matter.

Stellar Contribution. The radiation field spectrum is dominated by the emission from stars of late spectral classes, which has a large peak in the near infrared, at wavelength of about 1 micron. The energy density of this component has a local value of about

[Mathis 1983]. A second stellar component, due to stars of class OB, has a peak in the ultraviolet range (at 0.1 micron) but has an energy density lower by about an order of magnitude. Energy density and spectrum of the radiation field show large variation along the Galaxy depending on the distribution of the stars spectral type. In particular, toward the Galactic center an energy density distribution larger by a factor 3-10 and with a softer spectrum is expected.

Dust Contribution. Another component of the interstellar radiation field is due to emission in the far infrared of the dust associated with the interstellar matter and heated by absorption of star light. Depending on the temperature, it is possible to distinguish three components [Cox et al., 1986]:
Cold Dust, with temperature of about 15-25K, is associated to the HI regions and to the molecular clouds. It may be heated by both old and young stellar population.
Warm Dust, with temperature of about 30-40K, is associated to HII regions and is heated by stars of spectral class O and B.
Hot dust, with temperature of about 250-500K is constituted of very small (radius 5 A) grains heated by general ISRF and normal grains (radius 0.1 ) heated by M giants.
This temperature distribution gives rise to a spectrum with a main peak corresponding to a wavelength of 100 micron and to a secondary peak around 10 micron. Even if the dust component is less known, its energy density can be estimated between 0.05 and 0.3 eV ([Mathis 1983] , [Chi & Wolfendale, 1991], [Strong et al., 2000]).


Figure 1.6: The components of the spectrum of the interstellar radiation field. The spectrum of the cosmic background radiation it is also shown. (Adapted from [Strong et al., 2000]).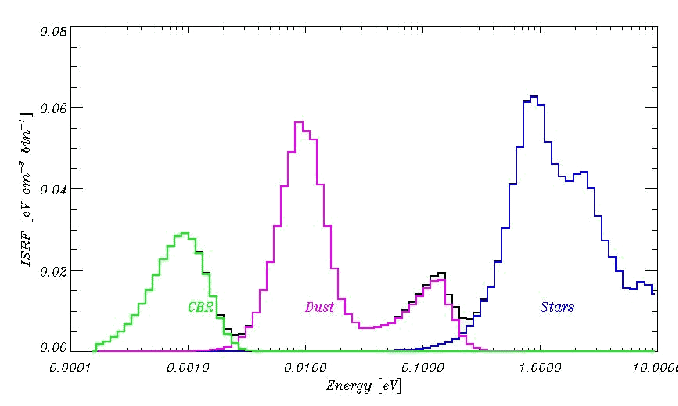 ---

Next: The magnetic field Up: Gamma-Ray Emissivity of the Previous: The Ionized Hydrogen &nbsp Contents Andrea Giuliani 2005-01-21