Next: Electron Bremsstrahlung Up: Proton-Proton collisions Previous: Proton-Proton collisions &nbsp Contents



The cross section
Although the cross section of the
production for pp collision is fundamental to estimate the interstellar gamma-ray emissivity its value is not yet well known. Its value is zero for kinetic energy less than 300 MeV the (threshold energy) and about 30 mbarn for kinetic energy more than 2 GeV . In the energy range



the cross section increase rapidly. A good fit of the experimental data is given by [Dermer, 1986b].
| | |
| --- | --- |
| | (1.14) |

where

is the proton momentum.
Nevertheless, it is important to notice that this is an assumption in the gamma-ray pp emissivity calculation, small variations in the cross section in the



range can lead to different results for gamma-ray spectrum with energy between about 50 MeV and 90 MeV.
In order to take into account the effect of heavier nuclei than protons in cosmic rays and the interstellar matter, we have use a constant multiplication factor independent of energy of value 1.5. This is a reasonable approximation, at least for energy less than 100 GeV per nucleon [Mori, 1997].

Figure 1.9: Cross section of neutral pion production through proton-proton collision [Dermer, 1986b].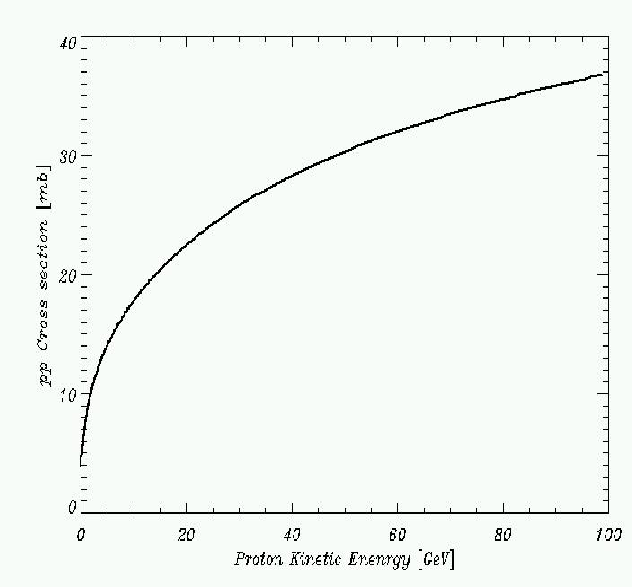 ---

Next: Electron Bremsstrahlung Up: Proton-Proton collisions Previous: Proton-Proton collisions &nbsp Contents Andrea Giuliani 2005-01-21